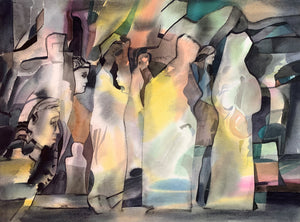 Medium: watercolour painting 
Dimensions: 22" x 30", horizontal 
Signature: lower right hand side
Date: 1994
Provenance: Directly from artist's estate.  
DESCRIPTION OF ARTWORK 
This subject matter was evoked by Tibor Nyilasi's personal memories of being a refugee. At the age of 20, after the downfall of the 1956 Hungarian Revolution against Soviet rule,  he walked over 200 kilometres west to escape Communist Hungary and reach asylum in  Austria. He was one of 200,000 people who fled. Nyilasi often recalled the long and dangerous trek, walking by night and hiding behind haystacks by day.  Whenever he heard about refugees on the move, he was filled with empathy and a visceral understanding. The scale of this watercolour painting  (22" x 30") implies the primacy of its theme for this artist.  In it, the people portrayed are all moving through a nocturnal, unknown landscape in one direction, from left to right.  They are disconnected from one another, alone, and most likely strangers.  Both men and women, they move in total silence. They have been reduced to shapeless shells, mere outlines of their former selves. Through the act of escaping from their homeland, they have lost their identity, culture, and even their language. The host culture they move into will also perceive them as "shell" people – as unknown strangers. Despite this, the painting depicts the determined energy of these refugees through the forward-bent figures, the unstoppable urge to move forward, and the faces fixed firmly on their futures, refusing to look back. Not surprisingly, a detail of the painting provides a counterbalance. In the third large figure of the row, at chest-level, a cameo mask of a human face looks backwards at a 90-degree angle. Is this the heart of the silent walker, which longs to return home?  The backward-looking image is so small in comparison to the monolithic figures being propelled forward by a seemingly migrational urge. It represents the secret longing for home which each refugee will keep in his or her heart forever.