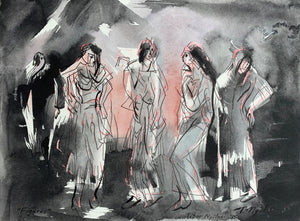 Medium: watercolour and india ink on paper
Dimensions: 12" x 9", horizontal  
Signature: lower right hand side
Date: 1985
Provenance: Artwork was acquired from the Artist's estate. 
DESCRIPTION OF ARTWORK 
As an artist, Nyilasi was always fascinated by the transformation of humans when they appear on stage under the stage lights. For him, they acquired a monumentality which was almost sculptural, and their stance and gestures became symbolic of larger truths and concepts. Placing these figures in juxtaposition, watching them emerge from the wings and depart, he creates a stage experience for the viewers of this painting as if they were front-row audience members. The fluidity of this painting shows his mastery of free form ink application, wash, tonal shifts and anatomy.