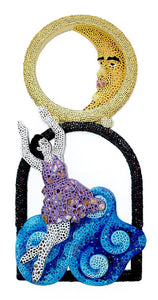 Medium: Mosaic wall sculpture
Materials: carved pine, acrylic paint, stones and glass from Van Wagners Beach, Hamilton, white and off white stones (quartz ?) from Gyejok Mountain, Daejeon, Korea, a wooden clock frame and a wooden chair arch both found in the garbage in Korea.
Dimensions: 17 x 37 x 4 1/2 inches, vertical
Signature: verso
Date: 2022
Provenance: Directly from the artist's studio.