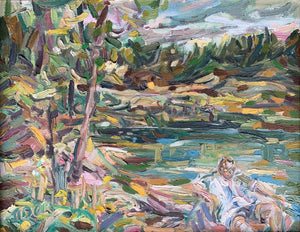 Medium: oil on panel 
Dimensions: 14" x 18", horizontal  
Signature: lower left hand side
Date: unknown
Provenance: Artwork was acquired from the Artist's estate. 
DESCRIPTION OF ARTWORK 
This undated oil painting from the 1960's,  simply signed with the artist's first name, reflects the mastery he developed at the Ontario College of Art. At that period in his life Nyilasi was a young bachelor and on summer weekends he often went up to  Muskoka to camp. He went with a group of free-spirited Hungarian immigrants. The young men would cram into a single old car with the tent and camping supplies, and while away the journey with jokes, conversation, and singing. The others went to fish, but Tibor preferred to relax in the sun or paint.  Part of their ritual was to always leave early enough on Sunday to reach Toronto in time to gather around a TV set and watch the Ed Sullivan Show at 8 P.M.
This painting depicts one of Tibor's friends relaxing in a rowboat in the afternoon sun. His white shirt, shorts, and relaxed position create a counterbalance to the rough wilderness. A sense of optimism is created by Nyilasi's use of light greens and white highlights. The painting depicts the reason the Muskoka Lakes have always been so popular: "To get away from it all."