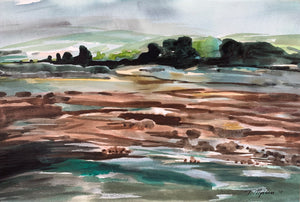 Medium: watercolour on paper 
Dimensions: 13.75" x 20.4", horizontal  
Signature: lower right hand side
Date: 2011
Provenance: Artwork was acquired from the Artist's estate. 
DESCRIPTION OF ARTWORK 
In his retirement, Nyilasi often drove out into nature in the morning on landscape painting excursions. Even in early March he did not hesitate to explore the rural back roads around Hamilton. Because he had grown up in a small agricultural village, he knew the importance of a fallow field waiting for warmer weather. The owner of this farmland knows that with the true arrival of spring, the earth will be green and productive once again. This watercolour captures the subdued colours of early March and the season's tentative light. The land is viewed close up, from a low angle, and stretches horizontally with latent power and potential. In the background, a row of darkly-shadowed trees lead the eye to barely-visible distant hills shrouded in seasonal mists. The compositional elements are well-balanced and lead the eye steadily from the foreground to the background.